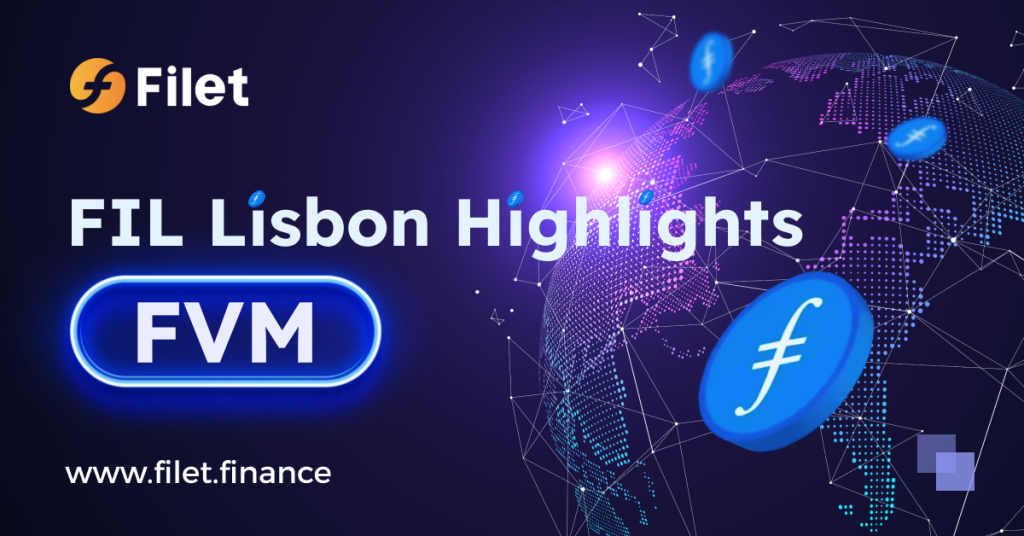 FIL Lisbon was ended successfully, and this article has summarized highlights of this conference.
Filecoin Foundation for the Decentralized Web (FFDW) Overview
As an NPO, FFDW is building Web3 alongside with 30+ partners like museums, universities, etc. and striving to store and preserve people's important data and information. In addition, FFDW is also working to provide significant information to human right organizations, press, etc.
End-to-End Support for Builders
Multiple programs are available to support builders, including Accelerators, Softnoise and Builders Fund. Accelerators is a concentrated multi-week programs providing late-stage builders knowledge, network and capital.
Filecoin Virtual Machine (FVM)
The FVM project delivers on-chain programmability to the Filecoin network with its tooling being SDKs, Block Explorers, Multiaddar, Testnets, etc. It's worth noting that Filet is introduced as staking protocols in Layers 2 applications. FVM's full compatibility is expected to be achieved in the middle of 2023.
Filecoin Ecosystem Overview
Web3 storage and compute must become web-scale for Web3 to cross the chasm. Today, Filecoin is the scalable data storage layer of Web3 and efforts are being made to make it scalable data storage layer of the Web. Moreover, the Filecoin Master Plan is introduced covering 3 steps as below:
Step 1. Build the world's largest decentralized storage network (~4000+ SPs, 44+ Countries, 16 EiB+ of Storage Capacity).
Step 2. Onboard & safeguard humanity's data (The amount of data onboarded 2022 YTD has 8.5x'd).
Step 3. Bring compute to the data, to enable web-scale apps (FVM).
All You Need to Know about FVM And What Becomes Possible with FVM?
What is FVM?
The FVM project delivers on-chain programmability (AKA: smart contract) to the Filecoin network. Developers can not only build with Filecoin, but also build on Filecoin as a platform.
Possibility 1: Storage Provider Loan Markets
A reputation score for borrowers will be created to identify whether it's a good borrower or not. Multi-signature technology is also used to administer owner's account assets, third-party storage providers and lenders (token holders). That's beneficial for Filecoin investors and can boost Filecoin economy.
Possibility 2: Perpetual Storage Deals
Intelligent contracts can be applied on Filecoin to make perpetual storage deals reliable, secure and on verifiable storage proofs. Monitor data CID and storage deals always provide data deal to qualifying storage provides.
Possibility 3: Programmable Storage Tools
Programmable storage tools include on-chain Dao solution, multi-protocols, retrieve insurance contracts, Data bounties and many more.
Possibility 4: Tokens, Bridges, and L2 Networks
New ERC 20 token can be launched on FVM, or bridge directly to token pools on other chains. ERC20 chains can plug-in to the Filecoin chain to benefits to its storage power and security.
Possibility 5: Data DAOs
FVM enables a large group of individuals or organizations to curate or preserve a collection of data, like the NFTs. Developers are able to customize the intelligent contracts to run data storage, access data, preserve and invest. Compatible with Web3, Filecoin can be used as a storage layer for multiple chains for perpetual storage of data.
And even more…
For more details about the complete details about FIL Lisbon Conference and more about FVM, please check the conference video on https://www.youtube.com/watch?v=vVg4m0aTYm8 or go to the official website of Filecoin https://filecoin.io/blog/posts/what-the-fvm-unlocks/.
---
About Filet
Filet is a Filecoin mining power tokenization protocol that deployed on BSC and HECO network. It tokenizes Filecoin mining power and introduces it into the DeFi ecosystem to provide FIL holders with high-growth FIL staking services. The mining power and assets are completely open and transparent.
Filet is backed by one of the largest storage providers in North America. The project is open source and audited by Certik. It is safe and secure to stake in Filet.
Webiste: www.filet.finance
Telegram: https://t.me/filet_finance
Twitter: https://twitter.com/Filet_finance
Blog: https://www.filet.finance/blog_en/
Medium: https://filet.medium.com/
Email: contact@filet.finance