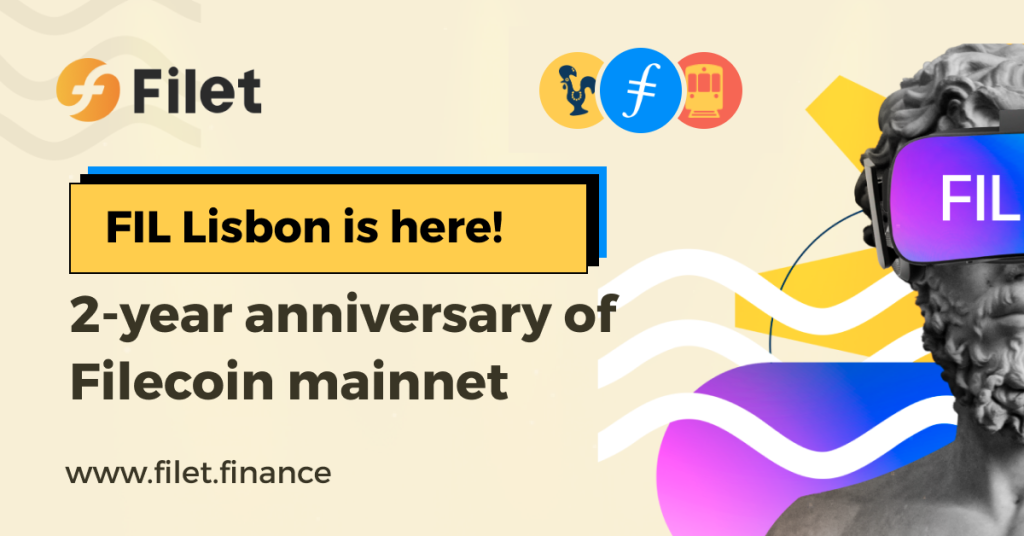 Filecoin Foundation unveiled details of FIL Lisbon, the first major gathering of the Filecoin community in Lisbon, Portugal, taking place from Oct. 30 to Nov. 4 to celebrate two years since the Filecoin mainnet launch.
FIL Lisbon will take place from Oct. 30 to Nov. 4 with main stage days on Oct. 31 and Nov. 1 at LX Factory.
The main stage will feature insightful talks from top-notch speakers, panel discussions from the world's foremost Filecoin ecosystem participants, and interactive workshops with fellow Web3 co-builders. The speaker lineup will take you through the Filecoin world of FVM, NFTs, the metaverse, and beyond, so that you can be a part of the Web3 wave.
Throughout the week there will also be host talks, meetups, workshops, hackathons and happy hours with music and fun across the city, bringing together developers, storage providers, ecosystem partners, investors, and clients.
The conference schedule includes:
Oct. 24 – Nov. 4 LabWeek22 – the first-ever decentralized conference.
Oct. 24 – Nov. 4 Filecoin Foundation x Fission Codes x Lightshift Hacker Base
Oct. 30 Filecoin Network Meetup – your chance to connect with people and teams from across the Filecoin ecosystem
Oct. 30 – Filecoin Interplanetary Party
Oct. 31 – Nov. 1 – FIL Lisbon Main Stage, LX Factory
What is Filecoin?
Filecoin is a decentralized storage system aiming to store the most important information for people. $205 million was raised in an initial coin offering (ICO) in 2017. As an open protocol, Filecoin is backed by a blockchain that records commitments made by the network's participants, with transactions made using FIL, the blockchain's native currency. The blockchain is based on both proof-of-replication and proof-of-spacetime. Up to now, Filecoin has been one of the most ambitious projects in the field of blockchain and cryptocurrency.
Why Filecoin is Promising?
Based on the real-time data on FILFOX, the network storage power has reached 18.11EiB and 3,989 active miners are included in the network. And all the data keep constantly rising. Up to now, Filecoin project is also making solid progress in accordance with the plan in its white paper.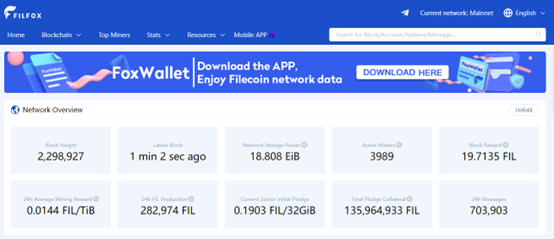 The EiB-level data capacity the Filecoin network achieves has laid a solid foundation for the smooth development of the network. On this solid foundation, Filecoin has the confidence and strength to be comparable to traditional cloud service providers such as Amazon Cloud.
The launch of FIL+, through the empowerment of ten times the effective computing power, has attracted the data storage of enterprise-level customers for the Filecoin network. In other words, as a business, you can store data on the Filecoin network for free. The Filecoin network provides storage services for hundreds of customers, including NFT, DeFil, finance, education, architectural design, cultural film and television, and even government departments and many other industries.
Where Will Filecoin Go in the Future?
According to Seagate data, by 2023, China's data volume will reach 40ZiB, of which more than 80% are unstructured data (documents, pictures, videos), and by 2025 data storage will be expected to grow to 175ZiB. If all the data are stacked up, the piles of data can go up to the moon (1ZiB = 1 trillion GiB). This massive amount of data will undoubtedly bring huge challenges to the storage field. It is conceivable that with the popularization of 5G, the field of data storage to which Filecoin belongs will be a blue ocean.
---
About Filet
Filet is a Filecoin mining power tokenization protocol that deployed on BSC and HECO network. It tokenizes Filecoin mining power and introduces it into the DeFi ecosystem to provide FIL holders with high-growth FIL staking services. The mining power and assets are completely open and transparent.
Filet is backed by one of the largest storage providers in North America. The project is open source and audited by Certik. It is safe and secure to stake in Filet.
Webiste: www.filet.finance
Telegram: https://t.me/filet_finance
Twitter: https://twitter.com/Filet_finance
Blog: https://www.filet.finance/blog_en/
Medium: https://filet.medium.com/
Email: contact@filet.finance