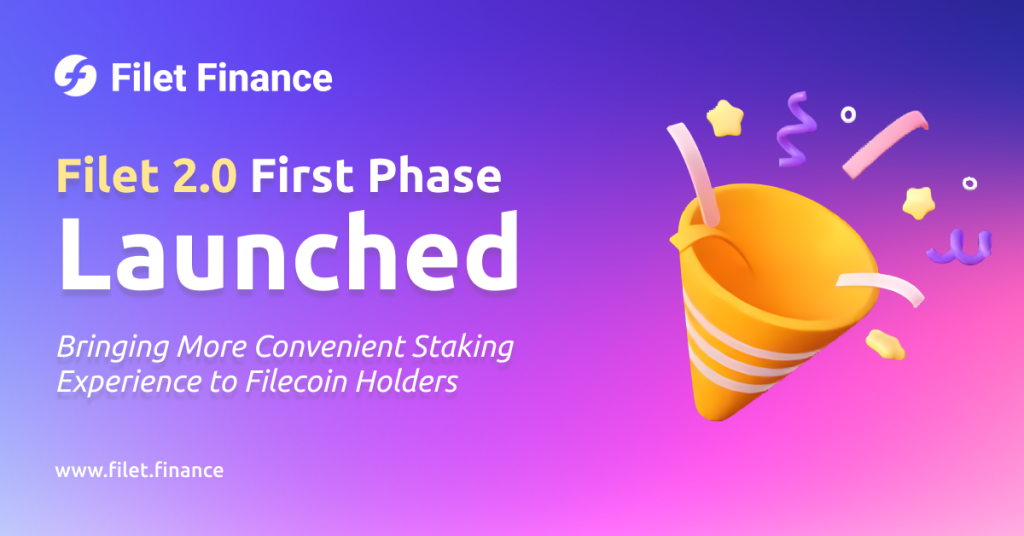 The launch of FVM marks the possibility of more Filecoin applications coming on borad. Among them, DeFi is one of the most common and applicable application scenarios on the Filecoin chain. The FVM allows developers to build new applications using smart contracts and take advantage of the user programmability available on the Filecoin blockchain, opening up new opportunities to enable Storage Providers to acquire FIL for collateral.
Meanwhile, Filecoin holders can contribute their own FIL through these specifically designed smart-contract protocols and gain passive earnings.
Since its launch in May 2021, Filet Finance has always been committed to bringing decentralized, secure, and convenient staking experience to Filecoin holders, and providing stable and competitive staking returns to investors. Currently, the cumulative staking of Filet 1.0 has exceeded 590,000 FIL, bringing more than 90 PiB of storage power to storage providers, and more than 110,000 FIL of returns to Filecoin holders. Different from other DeFi products, Filet supports multi-chains, and FIL assets can also be staked on BSC and HECO chains. It is open source and has been audited by Certik.
The first phase of Filet launched, allowing Filecoin holders to participate in Filecoin staking directly through Filecoin smart contracts on FVM. Filecoin holders can directly participate in Filet through crypto wallets that support FVM chain, such as Metamask, HiWallet, Foxwallet, TokenPocket, etc. Filet 2.0 and 1.0 versions coexist in the Dapp, so both Filecoin holders who have participated in staking before and those who are about to participate in 2.0 can choose freely.
One of the topics the Filecoin community has been discussing is the multiple address types of Filecoin. Currently, there are relatively few wallets that support transferring from f1 address to f4 address. Here, we are pleased to announce that HiWallet now officially supports transferring from f1 address to f4 address. Filecoin holders can directly participate in staking on FVM in HiWallet. HiWallet is a decentralized wallet and users' assets are in their own control.
In addition to supporting staking on FVM, Filet 2.0 also launches nFIL. nFil is a staking lease certificate of FIL with a 1:1 exchange ratio. That is, if you stake in Filet 2.0, you can get a corresponding 1:1 ratio of nFIL. The usage scenario of nFIL is not open yet and it can be used in the future as collateral for borrowing and redemption certificate of FIL. Please stay tuned.
Filet 2.0 will continue to launch the contract environment for storage providers to prepare them for onboarding. We will provide exclusive domain names for SPs, and the staking entered through their exclusive domains will directly enter their staking pool, but at the same time, the security can be jointly guarded by the platform and SPs. We will also launch nFIL lending pool to facilitate users to circulate their assets. More features will be launched soon!
About Filet Finance
Filet is a Filecoin mining power tokenization protocol that deployed on Filecoin (FVM) and BSC networks. It tokenizes Filecoin mining power and introduces it into the DeFi ecosystem to provide FIL holders with high-growth FIL staking services. The mining power and assets are completely open and transparent.
Filet is backed by one of the largest storage providers in North America. The project is open source and audited by Certik. It is safe and secure to stake in Filet. As for now, Filet is one of the Filecoin ecosystem projects.
Webiste: www.filet.finance
Telegram: https://t.me/filet_finance
Twitter: https://twitter.com/Filet_finance
Medium: https://filet.medium.com/
Email: contact@filet.finance