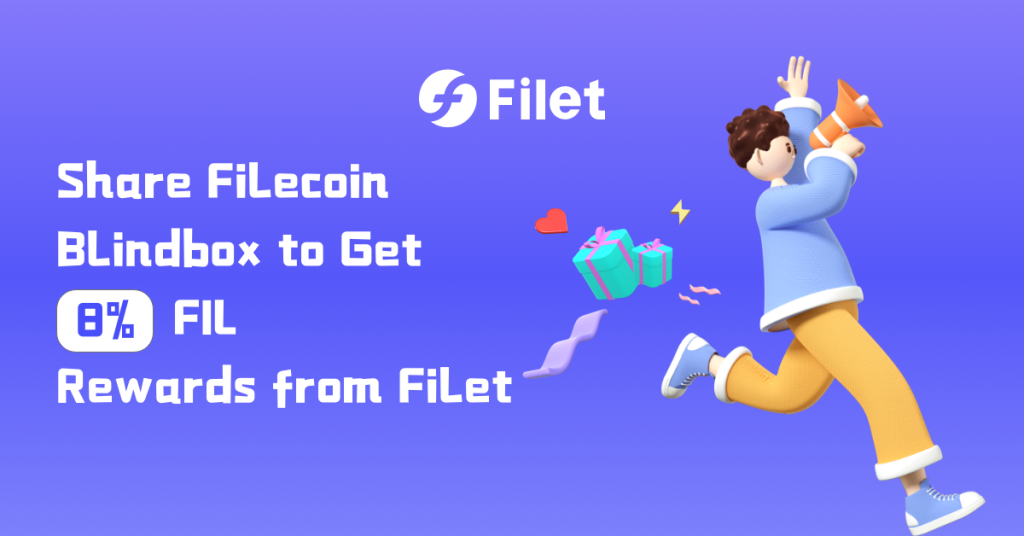 The Blind Box campaign is still ongoing. Visit the Filet official website to get the Filecoin blind box.
In addition, Filet has added a bonus feature. Open Filet and find the tab "Reward", here you can find a way to earn FIL tokens. Share your friends' blind boxes, and once they enter addresses on the corresponding chain, and the corresponding blind box can be opened at these addresses, with a maximum of 15% bonus coupon. Friends use this blind box to participate in Filet, and you can get the 8% FIL reward given by Filet. The more blind boxes you give away, the more rewards you get!
Filet's current staking is close to 120,000 FIL, thank you again for the support and trust! The gift of blind boxes is valid for a long time, and supports chains such as Filecoin, BSC, HECO, etc. There are detailed tutorials on the invitation page to tell your friends how to get blind boxes from Filet.
Here are the general questions about Filet Rewards part:
1. Can I share the blind box with my friends via social medias?
Yes, you can! You can share the link on Twitter, Facebook, or WhatsApp, if your friends enter their crypto address, he or she can find Filet blind box on this address. Please be noted that currently we only support Filecoin, BSC, HECO and Mixin Network. For Filecoin, please refer to HiWallet Androd version.
2. What's in the blind box?
A bonus coupon with a random rate. Up to 15%.
3. What's the use of the coupon?
Your friends can use the coupon when staking to get additional FIL income.
4. What can my friends and I get from the invitation?
Your friends can get additional FIL tokens based on their daily earnings.
You will get 8% rewards from Filet official once your friends successfully staked in Filet.
5. Where did that reward come from?
The 8% reward is based on the daily income of your friend's, and is distributed from the Filet team, not from your friends' income. The more friends use your coupon to stake, the more rewards you can get from Filet!
6. On which product that a coupon can be used?
Only when the invitee staked for a fixed-period FIL staking product (such as FIL 180-day and FIL 360-day) can you get the reward.
About Filet
Filet is a Filecoin mining power tokenization protocol deployed on the Filecoin, BSC, HECO, and Mixin network. It tokenizes Filecoin mining power and introduces it into the DeFi ecosystem to provide FIL holders with risk-free and high-growth FIL staking services, and the annualized FIL return is about 30%.
The right to interpret the event belongs to Filet Team.
Contact Filet
Webiste: www.filet.finance
Telegram: https://t.me/filet_finance
Twitter: https://twitter.com/Filet_finance
Blog: https://www.filet.finance/blog_en/
Medium: https://filet.medium.com/
Email: contact@filet.finance