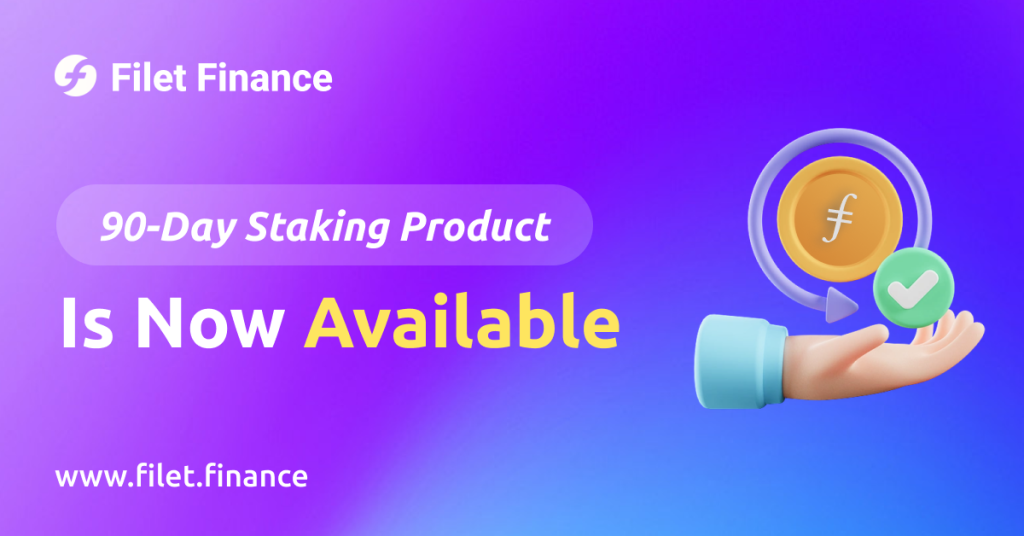 Welcome, Filecoin enthusiasts! Have you heard the exciting news from Filet Finance? This multi-chain decentralized Filecoin staking platform recently launched a new short-term, high-return, and service-fee-free product designed to let more Filecoin holders experience professional services and receive satisfactory returns. Since its launch, it quickly gained the favor of countless Filecoin holders!
---
Get to Know Filet's 90-Day Staking Product
Curious about what this new staking product has to offer? The product is currently in first round of sales, featuring a competitive APY of approximately 17%. But wait, there's more! Filet is also waiving the 20% service fee, making this product even more attractive to Filecoin stakers. In addition, from now until 10:00AM, July 27th, GMT, stake 90-day product, you can also get special coupons!
Filet's new product supports multi-chain staking, allowing Filecoin holders to choose their ideal decentralized network, such as BSC, Native, or FVM networks. With Filet's commitment to consistent services across all networks, you won't have to worry about any compromises.
For more information on supported wallets, check out https://www.filet.finance/download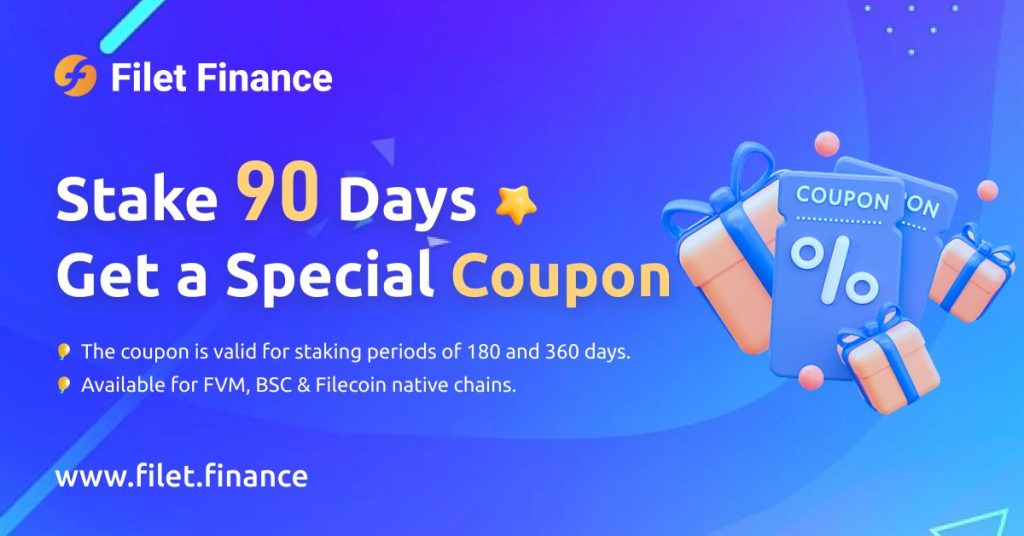 Understanding the 90-Day Staking Terms & Rewards
The service term for this new product is 90 days, and rewards are distributed according to the rules established for Filet's other products. Staking participants can claim the simple release portion of their mining power rewards daily, while the linear release portion is fully unlocked at maturity. The simple release portion can be staked again to earn additional Filecoin network rewards.
Filet calculates annualized returns based on the recent average output per T, with specific returns depending on actual mainnet output. This scientific approach ensures that users maximize their benefits while keeping Filet's products in sync with market and Filecoin network outputs. At the end of the 90-day service term, stakers can withdraw their remaining rewards and staked assets.
---
As Filecoin ecosystem project, Filet aims to bridge the gap between Filecoin holders and storage providers (SPs), helping storage providers scale up their production while offering risk-free ways for Filecoin holders to acquire more FIL tokens. Filet will continue contributing to the construction of the Filecoin ecosystem, providing stable, secure, and competitive products for all Filecoin holders. With the growth of the ecosystem, we will share prosperity and benefits with all Filecoin holders!
To learn more, please visit Filet Finance:
https://www.filet.finance/download
About Filet Finance
Filet is a Filecoin mining power tokenization protocol that deployed on Filecoin (FVM) and BSC networks. It tokenizes Filecoin mining power and introduces it into the DeFi ecosystem to provide FIL holders with high-growth FIL staking services. The mining power and assets are completely open and transparent.
Filet is backed by one of the largest storage providers in North America. The project is open source and audited by Certik. Filet is also one of the Filecoin ecosystem projects.
Webiste: www.filet.finance
Telegram: t.me/filet_finance
Twitter: @Filet_finance
Medium: https://filet.medium.com/
Email: contact@filet.finance