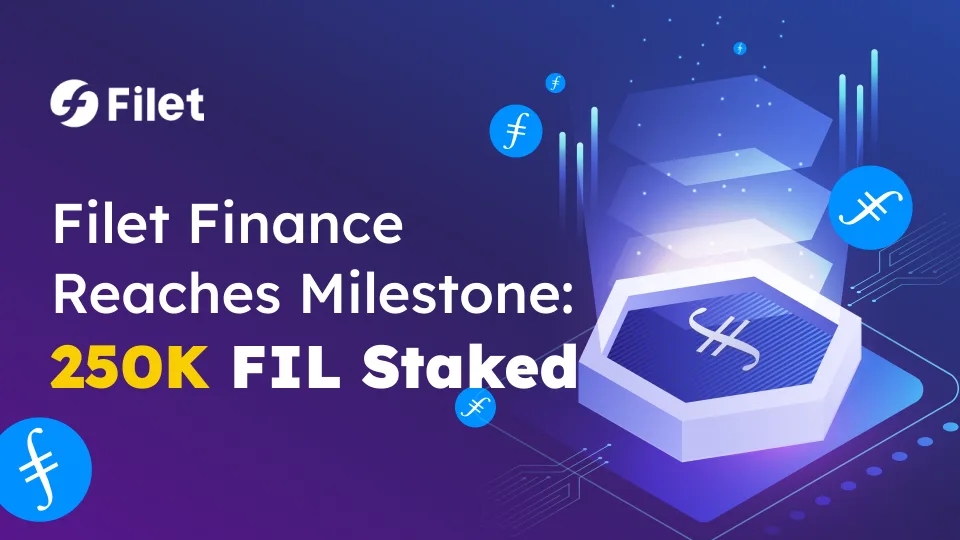 Filet Finance has reached a new milestone of 250k Filecoin (FIL) tokens staked on its platform. In just less than two months, Filet Finance has attracted 80,000 new FIL tokens for staking on the platform, that too in a bear market where crypto asset prices are diving, retail is making an exit, and top executives are leaving their projects.
This makes Filet's achievement an even bigger success. But that is not all, as the team is focused on advancing during these challenging times by continuing to build.
Moreover, Filet will now officially support Topia wallet, a decentralized plug-in wallet in the Chrome browser, to accept native FIL tokens for staking. The wallet is available in the Chrome web store.
So now, users can utilize the Topia wallet on their PC or HiWallet on their phones to join the Filecoin staking bandwagon.
An Opportunity to Earn Passive Income
Filet is a Filecoin mining power tokenization protocol that provides FIL token holders with a simple way to stake their coins and earn passive income. It achieves this by tokenizing Filecoin mining power and introducing it into the DeFi ecosystem to provide FIL holders with risk-free and high-growth FIL staking services.
This is an excellent opportunity for FIL token holders to grow their assets without being concerned about short-term price fluctuations as well as to weather bear markets.
You can stake your FIL tokens on the Filet platform for either a fixed period of 180 days to earn about 18% APY or an even higher 24% APY for staking your coins for 360 days. There is also a flexible staking option, where you are free to withdraw your coins at any time you want.
Filet Fiance currently supports four blockchain networks, viz. Filecoin, Binance Smart Chain (BNB), and HECO network.
A Much Simpler Way to Join Filecoin Mining
Filecoin is a decentralized storage network that acts as the incentive and security layer for IPFS (InterPlanetary File System), a peer-to-peer network for storing and sharing data files. It requires hardware facilities such as IDCs or mining machines to perform FIL mining. On top of that, to participate in Filecoin mining, you need technical expertise and regular maintenance along with a certain number of tokens for staking, all of which present a big challenge for ordinary investors.
While hardware prices are out of reach, professional operation and maintenance are complex and time-consuming. Only professional mining service providers can fully meet these requirements. And even then, storage providers still need a large number of tokens for staking to expand their service.
To remove these high barriers to entry, Filet launched its platform that connects global high-quality mining storage providers with ordinary investors. As a unique decentralized storage system, Filecoin has taken advantage of the growing popularity of cloud mining platforms and created an open market for file storage.
It allows storage providers to expand the scale of mining by gathering idle FIL tokens from the market and, for investors, the ability to use their FIL for mining without any additional investment.
This way, ordinary FIL investors can get a piece of the pie by participating in Filecoin mining through Filet's decentralized cloud mining platform for a risk-free, high return, and low entry barrier experience.
Filet also opens doors for regular investors to seize the dividends of Filecoin, making the platform one of the best choices for a stable investment in cryptocurrencies, as evident from the growing number of FIL tokens staked on Filet.
About Filet
---
Filet is a Filecoin mining power tokenization protocol that deployed on BSC and HECO network. It tokenizes Filecoin mining power and introduces it into the DeFi ecosystem to provide FIL holders with high-growth FIL staking services. The mining power and assets are completely open and transparent.
Filet is backed by one of the largest storage providers in North America. The project is open source and audited by Certik. It is safe and secure to stake in Filet.
Webiste: www.filet.finance
Telegram: https://t.me/filet_finance
Twitter: https://twitter.com/Filet_finance
Medium: https://filet.medium.com/
Email: contact@filet.finance