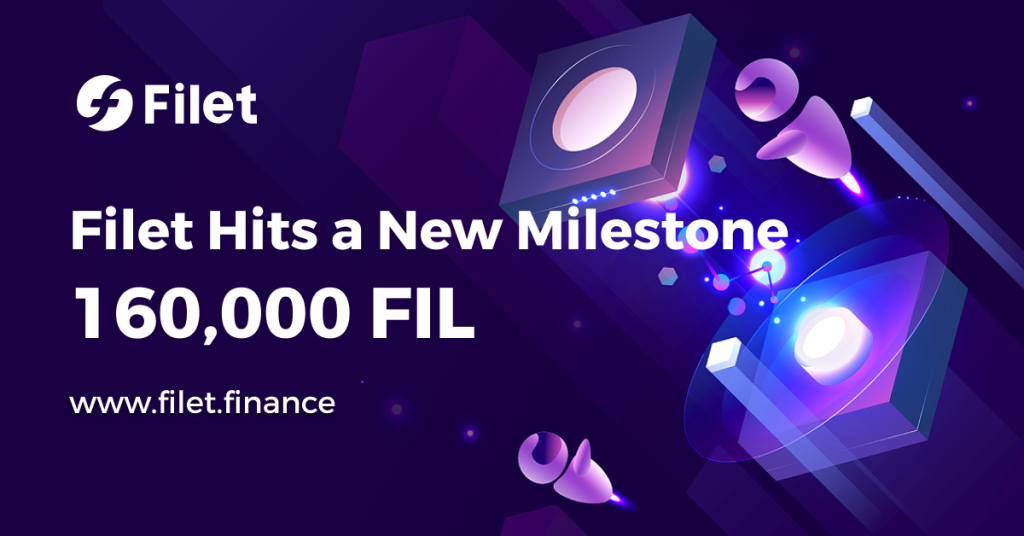 Filet Finance has achieved a new milestone, with the amount of Filecoin tokens currently being staked on the platform surpassing 160,000 FIL.
Even in the bear market, Filet continues to grow, with the total amount of tokens staked on Filet till now reaching nearly 220,000.
The growth is the result of attractive rewards Filet users get to earn for staking their FIL tokens on the platform. So far, Filet has awarded nearly 40,000 FIL in earnings to Filecoin holders.
This way, the platform offers an excellent way for FIL holders to weather the down market, which has the token losing more than 97% of its value from its all-time high (ATH), much like the broad cryptocurrency market.
Filet Finance was established in early 2021, it is a decentralized mining power service platform that builds on Filecoin, BNB and HECO network, Filet is powered by TOP Network, the first full-state sharding blockchain platform.
The platform is backed by the largest Filecoin storage providers in North America and is audited by leading blockchain security company CertiK.
Filet tokenizes the Filecoin mining power and then integrates it with the DeFi ecosystem to offer FIL holders risk-free, high-interest FIL staking services. By combining Filecoin and DeFi, Filet aims to remove the high threshold and lofty investment requirement of Filecoin mining, allowing all investors to participate in Filecoin mining and gain generous returns.
FIL token holders can earn as much as 30% APY for staking their coins for a fixed period of 360 days. Staking FIL for a fixed 180 days meanwhile will get you 23% APY. Even if you are looking for flexibility to withdraw your funds at any time, you can still earn a low double-digit APY, which is much higher than other platforms.
This way, Filet offers an efficient investment channel for conservative investors who are looking for stable returns, as well as crypto enthusiasts seeking juicy yield.
Filet is a decentralized, transparent, and secure way to participate in the Filecoin ecosystem, which is a decentralized data storage platform providing an alternative to industry giants like Amazon at nearly a thousandth of the cost.
Filecoin network connects clients looking to store their data with storage providers who earn the network's native FIL token as a blockchain reward. During the first half of 2022, the platform recorded growth, with active Filecoin storage deals between providers and clients surging 128%.
As decentralized storage gains traction, Filet allows users to prepare for this future without worrying about the market cycles. Not only are the rewards on this platform high, but the barriers to entry are extremely low, unlike the traditional Filecoin mining, where you need professional mining knowledge and expensive mining machines.
At Filet, you just have to stake a certain amount of FIL to start mining Filecoin. In order to start staking FIL tokens, Filecoin mainnet token holders need to just download the HiWallet and tap "Filet" on the homepage, and you are good to go. In case you hold your FIL tokens on BSC or HECO chain, go to the Filet's official website and then connect to the wallet to stake.
Enjoy the journey with Filet Finance.
Contact Filet
Webiste: www.filet.finance
Telegram: https://t.me/filet_finance
Twitter: https://twitter.com/Filet_finance
Blog: https://www.filet.finance/blog_en/
Medium: https://filet.medium.com/
Email: contact@filet.finance